We've never met someone who is perfectly okay with having bed bugs in their home. As you may have heard, reports about this tiny little creatures have been recently increasing. If you believe that this pest is invading your home you should give Chula Vista Pest Terminator a call today.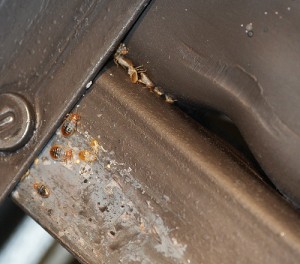 What Are Bed Bugs?
Unfortunately, unlike spiders, you can't just ignore them. Once you've been infested, they won't go away until our exterminator removes them.
They suck the blood of humans, usually while they sleep. Bedbugs will then pierce the skin with a stylet, cutting through the tissue to find blood vessels for feeding. They usually feed on blood for 5-10 minutes and then go back to their hiding spot. They are very small in terms of size. They do not fly, they just crawl. When a female bug starts reproducing, it may lay more than hundred of eggs.
Because of their flat and small body, they have the capability of fitting into small spaces. They are usually found on mattresses. Bed bugs enter our home undetected. You will never know when, only when they start biting you.
Signs Of Infestation
Usually, when people figure out they have bed bugs, it isn't simply because they found them. They are great at hiding, often choosing small holes in bedposts. If you find fecal spots on your mattress then you probably have been infested. Another way people discover if they have been infested is they find themselves covered in lots of bites or itch a lot upon waking. A musty odor is also present.
If you suspect a bed bug problem, then you should not sleep in your bed until our professionals exterminate them. Luckily, our Chula Vista pest control experts are here to answer your questions! Call (619) 618-0778 today to obtain a hassle-free quote and schedule your appointment.